6-year degree programme in Medicine and Surgery, held in English, is run by Humanitas University in partnership with Politecnico di Milano. The 2020 test will take place on September 4th for both European and non-European students.
Applications are open until August 26th
*The number of places available may change in accordance to a later Decree of the Ministry of Education, University and Research (M.I.U.R.), pursuant to the provisions of Law n. 264, August 2, 1999. The Decree of MIUR could confirm, increase or decrease the number of places available.
Admissions Test
The admissions test will take place on 4h September  2020 and it will last 100 minutes. It consists of a multiple-choice test, entirely in English .
The test will include questions on mathematics, verbal logic, physics, chemistry, biology, technical-scientific culture. The test is designed to capture the aptitude and propensity of candidates to study both hard science for Engineering and Life Sciences for Medicine.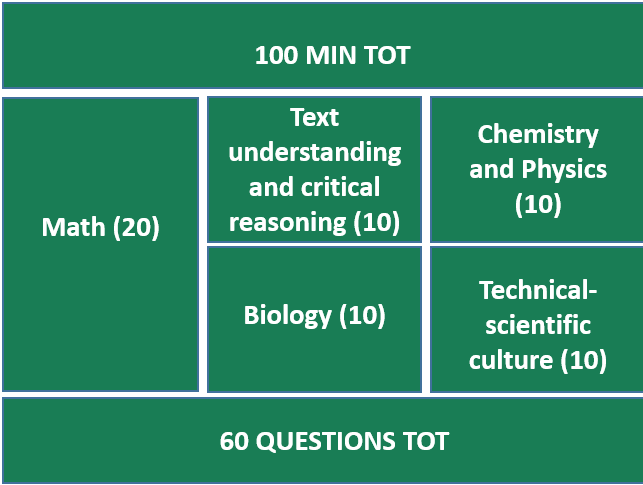 ---
Ranking List
Access to the degree programme is exclusively based on the ranking list resulting from the admissions test.
2020 Test center
View test centers for 2020 test
| COUNTRY | CITY |
| --- | --- |
| UK | London |
| France | Paris |
| Germany | Munich |
| Germany | Frankfurt |
| USA | New York |
| Ireland | Dublin |
| Greece | Athens |
| Sweden | Stockholm |
| Switzerland | Zurich |
| Israel | Tel Aviv |
| India | Mumbai |
| Italy | Milan |
NON-EU Admission Requirements
Having a NON-EU citizenship***
Having NO additional Italian citizenship
Not living in Italy
***Please note that citizens of United Kingdom, Norway, Iceland, Liechtenstein, Switzerland and the Republic of San Marino are equated to European students.
Minimum Entry Requirements
A high school diploma, or other recognised qualifications obtained abroad
Passing of admissions test
Specific requirements apply to UK, US, IB and other diplomas. 
---
For candidates holding UK diplomas
3 A-levels in Science related subjects
For candidates holding International Baccalaureate diplomas
IB obtained after 12 years of education
IBs obtained after 11 years of schooling integrated with 1 year of university
If you attended the Italian track you qualify as EU student, regardless of your citizenship.
---
 For candidates holding Greek diplomas
"Apolityrion" score higher than 10 out of 20
---
For Candidates Holding US Diplomas
3 APs (Advanced Placements) in Science related subjects or
two years of college education or
one year of college education and 4 APs (as above).
---
For Candidates Holding Other Diplomas
Minimum entry requirements will be reported in the relevant Calls for Applications.
Language related recommendations for applicants
Academic year 2019-2020: English language recommendations
All classroom activities at Humanitas Medical School are held in English. To fully understand and benefit from your degree course, a good level of English in all skills is required.  It is, therefore, strongly recommended that applicants to Humanitas Medical School have reached an adequate level of English language competency: Common European Framework of Reference    (CEFR) B2.
Italian Language Recommendations
The University provides free Italian courses over the academic year to support international students.
By the beginning of the third year, when clinical activities start, students are expected to have reached a good level of Italian to be able to interact with patients.